Brooten Fire Department chicken BBQ is Friday night draw for Bonanza Valley Days
RANDY OLSON
The Brooten Fire Department is excited to host their annual Bonanza Valley Days chicken BBQ supper on Friday, July 8 at the city park. They will serve from 5 to 8 p.m. with a cost of $10 a plate. This includes potato salad, beans, pickles, bun and beverage. Come one, come all!
Video below features Brooten Fire Department members washing the dust off of multiple picnic tables that will be utilized to host the large crowd that is expected. They began set up on Thursday night and are hopeful to serve upwards of 700-plus men, women and children. There will be plenty of seating for everyone, and plenty of room in the park to socialize and get together with friends, family and neighbors!
BVD Day One updates:
Thursday turned out to be a marvelous day as the city-wide garage sales got underway. Bonanza Valley Days t-shirt sales, which took place at the Bonanza Valley Voice newspaper office, were crazy good! They will continue to be on sale on Friday beginning after 11 a.m.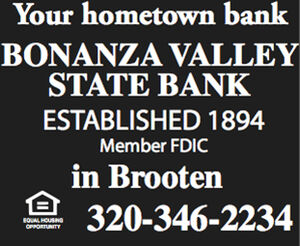 The Worship in the Park drew over 40 people to the city park to hear a heart-filled message from Father Jeremy Theis. The worship was recorded by the newspaper and will be posted at a future date. Let's get ready for Friday!