Spicer WinterFest is underway
Here's a video clip featuring views from Saturday, January 19 in Spicer (below)
In the January 24 issue of the Bonanza Valley Voice newspaper, the schedule of WinterFest from January 24 and later was published on page four.
On Saturday, January 26 and Sunday, January 27, the WinterFest Green Lake Pond Hockey tournament (four-on-four hockey) takes place all day both days at Pirotta Park in downtown Spicer. Also, the 15th annual Polar Plunge is at 1 p.m. on Saturday the 26th just off the shore by Zorbaz. On Saturday night, a Walter's Wheelhouse Duet is at O'Neil's from 3 to 6 p.m. "Cheers for Beers" is at the O'Neil's Event Center from 5 to 8 p.m. with beer tasting and live music.
On Saturday, January 27, the Spicer American Legion will host an Omelet breakfast as a fundraiser for the Sons of the American Legion from 8 a.m. to 12:30 p.m. Michael Shynes performs at O'Neil's on Sunday from 3 to 6 p.m.
February WinterFest activities in Spicer
Spicer WinterFest fun continues on February 1 with Soup and Music by the Big Al Band at 5 p.m. at the Glacial Ridge Winery. On Saturday, February 2, the sixth annual Tommy Swenson memorial fishing tournament is from 9 a.m. to noon, with tickets at $25 which includes a chicken dinner. Register at the Spicer American Legion between 7:30 and 8:30 a.m. that morning. Also that day, the 12th annual WinterFest softball tournament is from 9 a.m. to 4 p.m. (two game minimum) along with the Fire Department Challenge. From 11 a.m. to 5 p.m. on February 2 is "Fun in the Snow" at Little Crow Resort. The fun includes mini putt-putt, cookie decorating, entertainment, family paint-along plus a raffle drawing and more. Glacial Ridge Winery has Super Bowl snacks and wine pairing on February 2 from noon to 9 p.m.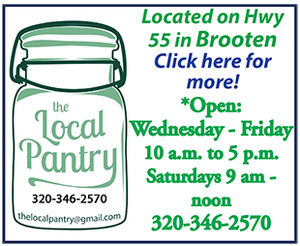 Fast forward to Sunday, February 10, and the public is invited to Prairie Woods Environmental Learning Center for Winter Fun Day from 11 a.m. to 4 p.m. Events include indoor climbing, skiing, snow shoeing, a chili feed, hot chocolate, music and more!