Bonanza Valley Community Calendar
Brooten's Bonanza Valley Days 2020!
Mark your calendars! July 9-12
The annual Bonanza Valley Days celebration in Brooten is set for July 9, 10, 11 and 12. Please spread the word and make plans to come to Brooten that weekend! The BVD Slogan Contest is underway! Courtesy of the BVD Committee, all ideas MUST be submitted by March 1, 2020. If your slogan is picked, you will win a prize package from local Brooten businesses. E-mail ideas to jennim@tds.net or drop off your ideas via hard copy at the Bonanza Valley Voice newspaper office in downtown Brooten.
March 29, 2020
Gun Safety training POSTPONED
Padua Conservation Club is postponing it's Firearms Safety Classes until August. Those who have registered will be notified of new dates and times. If you have questions, please call or text Dave Weller 320-760-4193.
April 8, 2020
Sedan city council meeting
The Sedan city council will meet in regular session on Wednesday, April 8 at 6 p.m. The meetings, which are held once per month, are open to the public at the Sedan City Hall.
April 18, 2020
Easton Rood benefit
Family and friends of Easton Rood of Belgrade will hold a benefit for the three-year old who was stricken by cancer in the summer of 2019 and diagnosed in August at just 2 1/2 years old. The benefit will be held on Saturday, April 18 from 11 a.m. to 3 p.m. at the New London American Legion. Easton Rood was diagnosed with Hepatoblastoma, a rare liver cancer. After many chemotherapy treatments and tests at Children's Hospital in Minneapolis, he was blessed to receive a liver transplant at St. Mary's/Mayo Hospital in Rochester on Dec. 27, 2019. Easton is the son of Casey and Nicole (Olson) Rood and has one brother, seven-year old Caleb. Because of the intense need to be in or near the hospitals, Casey and Nicole have had to dedicate 100 percent of their time to be by Easton's side in Minneapolis and Rochester for the past seven months. Meanwhile, Caleb has been staying with relatives to attend school at Belgrade-Brooten-Elrosa. Please join the family for a fundraiser to help with medical expenses the family has incurred. Schedule on April 18: chicken/ham dinner 11 a.m. to 2 p.m. (kids meals available), bake sale 11 a.m. to 3 p.m., silent auction 11 a.m. to 2 p.m., live auction at 3 p.m., benefit meat raffle at 4 p.m. (New London American Legion, license number A-00824-003) Outdoor activities for children will be held, weather-permitting. To donate items for this event, please contact Lynnette Cors at 320-894-6501. Monetary donations may also be made to the Easton Rood Benefit Fund at United Minnesota Bank in New London.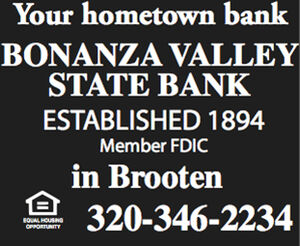 April 20, 2020
Belgrade-Brooten-Elrosa school board meeting
The Belgrade-Brooten-Elrosa school board will meet in regular session on Monday, April 20 at 7:30 p.m. at the high school library in Belgrade. The meeting is not open to the public due to the COVID-19 virus. The public is invited to watch the meeting via the school's broadcasting YouTube website. That link is: https://www.youtube.com/channel/UCkh877XG0VK6CZXD7mPL95A. The "Live Stream" button will not be available until shortly before 7:30 p.m.
April 22, 2020
American Red Cross Blood Mobile in Belgrade
The American Red Cross will be hosting a spring blood drive on Wednesday, April 22 at the Belgrade-Brooten-Elrosa high school. This event will take place with extra precautions due to the COVID-19 virus, so donors and volunteers will be safe with specific protocols in place. This event will run from 9 a.m. to 2 p.m. Time slots are every 15 minutes. Specific appointments can be set up with B-B-E senior Jacqueline Gossen at < gossejac000@bbejaguars.org > or blood donors can go into the Red Cross website https://www.redcrossblood.org/mydrives.html/drive/1-9ENV7BN, then type in the Belgrade zip code 56312, and set up an appointment themselves. Blood drives are an essential gathering and can have more than 10 attendees.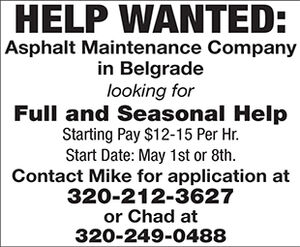 Thank you for your interest in the events taking place across the Bonanza Valley of central Minnesota!