Bonanza Valley Community Calendar
Brooten's Bonanza Valley Days 2020 is canceled
BVD canceled for 2020
The annual Bonanza Valley Days celebration in Brooten is canceled for 2020.
Church on the radio
Brooten Community Church has twice-weekly radio show
Everyone is invited to listen to Brooten Community Church Pastor Rick Krasky's twice-weekly radio messages every Wednesday at 6 p.m. and Sunday at 10 a.m. on KMGK 107.1 FM radio of Glenwood.
June 27, 2020
Eden Valley car club car show to run through Belgrade
Mark your calendars! Because they will not hold Valley Daze in Eden Valley, they decided to send their car show out on the road and do a nursing home tour. On Saturday, June 27, they will be coming by the front of the Belgrade Nursing Home at approximately 2:05 p.m. They will turn by the Dollar General, swing past the Green Manor Apartments and then drive past the Belgrade Nursing Home. Those wishing to watch are asked to park near Dollar General / Green Manor Apartments and watch from Pleasant Avenue.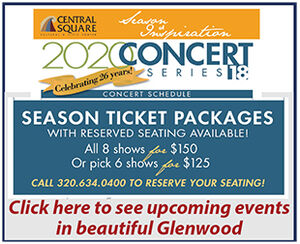 July 3, 2020
Sedan Fire Department Meat and Gun Raffle
The Sedan Fire Department is hosting a meat raffle and gun raffle event on Friday, July 3 at 6:30 p.m. at Rooney's Bar. Featuring $15 meat packs and $30 meat packs. Special Holiday drinks during the meat raffle, and the Sedan Fire Department will be grilling burgers for purchase. The event will be held outside (weather permitting) so please bring your own lawn chair to help maintain social distancing. Thank you for your support of the SFD and Rooney's Bar!
July 8, 2020
Sedan city council meeting
The Sedan city council will meet in regular session on Wednesday, July 8 at 6 p.m. The meetings, which are held once per month, are open to the public at the Sedan City Hall.
July 11, 2020
Benefit night for Jodi Schoumaker
A benefit fundraising night for Jodi Schoumaker of Belgrade will be held Saturday, July 11 at 4 p.m. at the Brooten Pavilion. Hamburgers and hot dogs off the grill will be served from 4 to 7 p.m. (plus cole slaw, beans, chips and something sweet) with free will donation. A silent auction and bake sale will also be held at that time. The live auction starts at 7 p.m., and music with karaoke will be at 8 p.m. Beverages (also free will donation) will be available throughout the evening. Drive-through meals will also be available. Jodi is receiving cancer treatments for Acute Myeloid Leukemia (AML), a type of blood cancer that starts in the bone marrow. Her husband, Tony, is a B-B-E high school graduate, and they have two middle school-age children currently enrolled at B-B-E.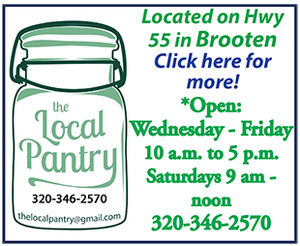 July 13, 2020
Brooten city council meeting
The Brooten city council will meet in regular session on Monday, July 13 at 7 p.m. You can preview the council's meeting agenda at the Bonanza Valley Voice publisher's blog the weekend prior to the meeting at https://lifeinbonanzavalley.blogspot.com.
July 14, 2020
Elrosa city council meeting
The Elrosa city council will meet on Tuesday, July 14 at at city hall.
July 20, 2020
Belgrade-Brooten-Elrosa school board meeting
The Belgrade-Brooten-Elrosa school board will meet in regular session on Monday, July 20 at 7:30 p.m. at the B-B-E elementary school library.
Thank you for your interest in the events taking place across the Bonanza Valley of central Minnesota!