Agriculture
(Listings 1 to 5 of 5)
Al's Butcher Shop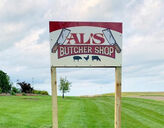 Contact: Alan Loch
Phone: 320-444-2985
24471 383rd Avenue
Belgrade, MN 56312 United States
http://www.facebook.com/alsbutchershopbelgrademn
Hours of operation: Open by appointment - give us a call!
E-mail:
loch3648@hotmail.com
Al's Butcher Shop of rural Belgrade is now a custom exempt butcher shop! Custom exempt basically means our facility is inspected by the state of Minnesota. We can slaughter your hogs, chickens and process venison. We have a local hook up for you to purchase a live hog and have us process it. With each order for the next month we will be including a gallon of homemade apple cider. Call 320-444-2985 or shoot us a message!
Now offering in September 2019:

Brooten Diesel Service, LLC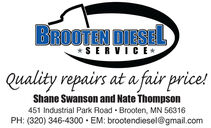 Contact: Shane Swanson
Phone: 320-346-4300
451 Industrial Park Road
P.O. Box 237
Brooten, Minnesota 56316 United States
Hours of operation: By appointment
E-mail:
brootendiesel@gmail.com
Brooten Diesel Service, LLC, is ready for your diesel engine work! Talk to Shane Swanson or Nate Thompson to get your work scheduled, as they offer quality repairs at a fair price! Located in the Brooten Industrial Park.
Irrigation Pump Services
Contact: Brent DeKok, owner
Phone: 320-295-8898
Brooten, Minnesota 56316 United States
Serving all your irrigator needs in the Bonanza Valley and beyond.
Paul Gruber
Contact: Paul Gruber
Phone: 320-293-2433
STRAW FOR SALE. New crop rotary wheat straw, south of Grove Lake. Rounds & Squares. Call 320-293-2433.
PSI Power Washers, Inc.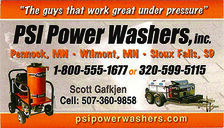 Contact: Scott Gafkjen
Phone: 507-360-9858
Brooten, minnesota 56316 United States
http://www.psipowerwashers.com
"The guys that work great under pressure"
We have offices in Pennock and Wilmont in Minnesota as well as Sioux Falls, South Dakota.
Company phone numbers 320-599-5115 or 800-555-1677.
Back to Top