Misc. Services
(Listings 1 to 10 of 10)

Amundson, Johnson and Schrader, P.A.
Contact: Ross Amundson
Phone: 320-243-3878
Fax: 320-243-4956
217 West James Street
P.O. Box 241
Paynesville, Minnesota 56362 United States
http://www.amundsonlaw.com
Hours of operation: By appointment and also at two locations in Belgrade and Brooten.
E-mail:
edith@amundsonlaw.com
Ross Amundson, Attorney at law, is available with office hours as follows:
In Belgrade at North Fork Mutual Insurance (Susan Cebulla's office) at 401 Washburn Avenue, between 9:30 and 10:30 a.m. on Thursdays.
In Brooten at Bonanza Valley State Bank on Thursdays from 11 a.m. to 12 p.m. noon.
A satellite office is at 209 Manitoba Street West in Spicer, MN.
Bonanza Valley Storage, LLC
Contact: Arlen Netland
Phone: 612-296-1298
48200 260th Street
Brooten, MN 56316 United States
FOR RENT: Storage units, we have openings, just as we gear up for FALL!! We have new sizes available, 8' x 20' just added. Bonanza Valley Storage in Brooten. Different sizes available. Call Arlen now to reserve your spot! 612-296-1298 for more info.

Ecowater Systems-Glenwood

Contact: Brady Weller
Phone: 320-634-0075
21810 State Highway 55
Glenwood, MN 56334 United States
http://wefixwatermn.com/
Hours of operation: Always open
Contact Ecowater Systems toll free! In Glenwood at 1-800-223-1689 or 320-634-0075 (local number)...Ecowater Systems, since 1925, We Fix Water! Call Brady Weller of Brooten for all your water treatment needs: water softeners, drinking water systems, salt delivery, rentals and sales, servicing all makes and models - financing available, as well as iron, nitrate and arsenic removal. Call Brady at 320-287-3628.
Integrity Storage Solutions LLC

Contact: John D. Bohmer
Phone: 320-260-2295
Brooten, MN 56316 United States
E-mail:
john_bohmer@yahoo.com
Integrity Storage Solutions, LLC, of Brooten is now renting containers and storage units in the Brooten Industrial Park. Multiple sizes are available to choose from, and we can customize size upon request from 10 feet of length to 40 feet of length. Price range is from $30 a month to $110 a month depending on size. These units seal up in super tight fashion, have thick steel walls and are more secure than a regular storage unit. Contact John Bohmer at 320-260-2295 for more information or to ask about renting.

Melby Outdoors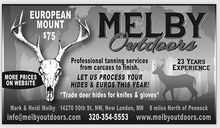 Contact: Mark Melby
Phone: 320-354-5533
14270 50th Street N.W.
New London, MN 56273 United States
http://www.melbyoutdoors.com
E-mail:
info@melbyoutdoors.com
24 YEAR OF EXPERIENCE. Located eight miles north of Pennock - *Trade deer hides for knives and gloves* Professional tanning services from carcass to finish. LET US PROCESS YOUR HIDES + EUROS THIS YEAR! European mount $75. More prices are on our website. We are now focusing our attention on "processing European mounts" and offering a "full line of tanning services" with complete "custom fur processing" available. We are also providing "taxidermy prepping services" for the everyday hunter to the professional taxidermist. We will still be selling engraved copper trap tags and our Melby outdoor products. Our main focus will remain as always: our customers, and to provide the best customer service at the best prices available. Thank you! The Melbys: Mark, Heidi, Hunter and Kaylin.
Midwest Asphalt Maintenance, LLC

Contact: Mike Grundseth, sales
Phone: 320-212-3627
314 County Road 13
Belgrade, Minnesota 56312 United States
Hours of operation: By appointment, call us today!
E-mail:
midwestasphaltmaint@gmail.com
Midwest Asphalt Maintenance, LLC of Belgrade is locally-owned with friendly, knowledgeable staff who are ready to help your next project on your home or business properties! Combining years of experience with a dedication to client satisfaction, Midwest Asphalt Maintenance LLC has established itself as the local leader in Sealcoating, Crack Sealing and Air Injection Patching. Services include crack sealing, air injection patching, seal coating and striping. Give Mike a call today, 320-212-3627. Or call us toll-free at 1-800-880-1499.
Mailing address: Midwest Asphalt Maintenance, LLC at P.O. Box 723, Belgrade MN 56312.
Murphey's Printing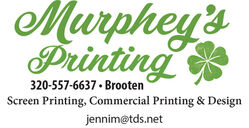 Contact: Jennifer Murphy
Phone: 320-557-6637
Brooten, MN 56316 United States
Hours of operation: Available by appointment
E-mail:
jennim@tds.net
Call Murphey's Printing of Brooten for all your job printing needs! Including t-shirt design and screen printing, copying, raffle tickets, graphic design work and more! Specializing in screen printing, commercial printing and design. Available, flexible, high-quality work done with a quick turnaround time.
Reutzel Tree Services
Contact: Devon Reutzel
Phone: 320-346-4116
Brooten, Minnesota 56316 United States
Tree trimmings and stump removal. Call Devon at 320-346-4116 or (cell) 320-292-1906.

Roger Beck cemetery monuments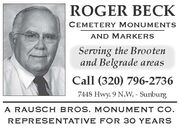 Contact: Roger Beck
Phone: 320-366-3433
7448 Hwy. 9 N.W.
Sunburg, MN 56289 United States
Hours of operation: Appointment
Roger Beck Cemetery Monuments and Markers - serving the Brooten and Belgrade areas. A Rausch Bros. Monument Co. representative for 30 years.
The Local Pantry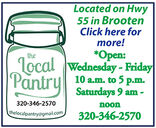 Contact: Stacey Lewis
Phone: 320-346-2570
411 First Street
Brooten, MN 56316 United States
http://www.thelocalpantry.net
Hours of operation: Wednesday Thursday Friday from 10 a.m. to 5 p.m., Saturday 10 a.m. to noon
E-mail:
thelocalpantry@gmail.com
The Local Pantry is a quaint little shop that specializes in salads, homemade freezer meals, fresh farm eggs and other local items and gifts. Stop by the Local Pantry and see what they have to offer! (1.) Frozen Meals - homemade has never been so easy! We have a large variety of freezer meals. Made from scratch right here in our kitchen. Ready for you to take home and cook in your oven or crockpot. (2.) Salads - Broccoli Bacon, Macaroni, and Potato are some of the salads you will find available on a regular basis. Other salads are available seasonally or upon request. (3.) Gifts and more - Handcrafted soaps and lotions, woven rugs, aprons, and melted wine bottles are some of the gift items you will find here at The Local Pantry.
Back to Top