Misc. Services
(Listings 1 to 9 of 9)

Amundson & Johnson, P.A.
Contact: Ross Amundson
Phone: 320-243-3878
217 West James Street
Paynesville, Minnesota 56362 United States
Hours of operation: By appointment and also at two locations in Belgrade and Brooten.
Attorney at law, with office hours as follows:
In Belgrade at North American State Bank on Thursdays 9:30 a.m. to 10:30 a.m.
In Brooten at Bohmer Insurance Agency on Thursdays from 11 a.m. to 12 p.m. noon.

Ecowater Systems-Glenwood

Contact: Brady Weller
Phone: 320-634-0075
21810 State Highway 55
Glenwood, MN 56334 United States
http://wefixwatermn.com/
Hours of operation: Always open
Contact Ecowater Systems toll free! In Glenwood at 1-800-223-1689 or 320-634-0075 (local number)...Ecowater Systems, since 1925, We Fix Water! Call Brady Weller of Brooten for all your water treatment needs: water softeners, drinking water systems, salt delivery, rentals and sales, servicing all makes and models - financing available, as well as iron, nitrate and arsenic removal. Call Brady at 320-287-3628.

Melby Outdoors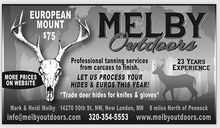 Contact: Mark Melby
Phone: 320-354-5533
14270 50th Street N.W.
New London, MN 56273 United States
http://www.melbyoutdoors.com
E-mail:
info@melbyoutdoors.com
24 YEAR OF EXPERIENCE. Located eight miles north of Pennock - *Trade deer hides for knives and gloves* Professional tanning services from carcass to finish. LET US PROCESS YOUR HIDES + EUROS THIS YEAR! European mount $75. More prices are on our website. We are now focusing our attention on "processing European mounts" and offering a "full line of tanning services" with complete "custom fur processing" available. We are also providing "taxidermy prepping services" for the everyday hunter to the professional taxidermist. We will still be selling engraved copper trap tags and our Melby outdoor products. Our main focus will remain as always: our customers, and to provide the best customer service at the best prices available. Thank you! The Melbys: Mark, Heidi, Hunter and Kaylin.
Midwest Asphalt Maintenance, LLC

Contact: Mike Grundseth, sales
Phone: 320-212-3627
314 County Road 13
Belgrade, Minnesota 56312 United States
Hours of operation: By appointment, call us today!
E-mail:
midwestasphaltmaint@gmail.com
Midwest Asphalt Maintenance, LLC of Belgrade is locally-owned with friendly, knowledgeable staff who are ready to help your next project on your home or business properties! Combining years of experience with a dedication to client satisfaction, Midwest Asphalt Maintenance LLC has established itself as the local leader in Sealcoating, Crack Sealing and Air Injection Patching. Services include crack sealing, air injection patching, seal coating and striping. Give Mike a call today, 320-212-3627. Or call us toll-free at 1-800-880-1499.
Mailing address: Midwest Asphalt Maintenance, LLC at P.O. Box 723, Belgrade MN 56312.
Minnewaska Meat Processing
Contact: Eric Jensen, owner
Phone: 320-634-3143
Fax: 320-634-3143
11 1st Avenue Southwest
Glenwood, Minnesota 56334 United States
http://www.minnewaskameats.com
Hours of operation: Monday through Friday, 8 a.m. to 6 p.m. & Saturdays 7:30 a.m. to noon
TOLL FREE 1-866-980-MEAT. Visit our website and sign up for our e-mail list!
http://www.minnewaskameats.com/contact/
The Jensen family has operated the business since 1975. Eric Jensen and his wife, Denise, have owned and operated their shop in Glenwood, Minnesota since 1999. We offer the best local Catering and Wild Game processing. We also provide fresh cuts, deli meats, cheeses, hot dogs, burgers, salads and much more from our deli cases. Fresh every day!
Minnewaska Meats offers the following fine products:
Bacon + Ham, Bakery Products, Cheese, Curing, Eggs, Local Area Catering, Emergency Slaughtering, Full Service Meat Case, Groceries, Ice Cream, Venison, Selected Cuts of Beef + Pork, Pork, Milk, Retail Sales of Homemade Sausage, Pick-Up Service, Large Variety of Venison Sausages and Money Saving Meat Bundles.
Murphey's Printing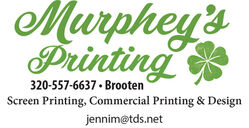 Contact: Jennifer Murphy
Phone: 320-557-6637
Brooten, MN 56316 United States
Hours of operation: Available by appointment
E-mail:
jennim@tds.net
Call Murphey's Printing of Brooten for all your job printing needs! Including t-shirt design and screen printing, copying, raffle tickets, graphic design work and more! Specializing in screen printing, commercial printing and design. Available, flexible, high-quality work done with a quick turnaround time.
Reutzel Tree Services
Contact: Devon Reutzel
Phone: 320-346-4116
Brooten, Minnesota 56316 United States
Tree trimmings and stump removal. Call Devon at 320-346-4116 or (cell) 320-292-1906.

Roger Beck cemetery monuments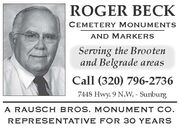 Contact: Roger Beck
Phone: 320-366-3433
7448 Hwy. 9 N.W.
Sunburg, MN 56289 United States
Hours of operation: Appointment
Roger Beck Cemetery Monuments and Markers - serving the Brooten and Belgrade areas. A Rausch Bros. Monument Co. representative for 30 years.
The Red Hen House
Contact: Barb Lent
Phone: 320-346-4367
241 Central Avenue South
PO Box 6
Brooten, Minnesota 56316 United States
http://www.theredhenhouse.com
E-mail:
thelentlady@aol.com
Come and relax at The Red Hen House in Brooten, Minnesota. This is a wonderful retreat center when you need a place to get away from all the hustle and bustle of life — from the job, the kids, the house, and all the demands of everyday living. Get away to a comfortable place where you can spend some quality time with people of your choice — and to work on the crafting and quilting projects that give you gratification and have fun, too!
Our calendar of events page is:
http://www.theredhenhouse.com/calendar
.
Back to Top