Cleaning Services
(Listings 1 to 2 of 2)
PSI Power Washers, Inc.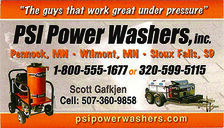 Contact: Scott Gafkjen
Phone: 507-360-9858
Brooten, minnesota 56316 United States
http://www.psipowerwashers.com
"The guys that work great under pressure"
We have offices in Pennock and Wilmont in Minnesota as well as Sioux Falls, South Dakota.
Company phone numbers 320-599-5115 or 800-555-1677.
Rich's Quality Carpet & Upholstery Cleaning
Contact: Rich Pillard
Phone: 320-346-2412
Brooten, Minnesota 56316 United States
Hours of operation: by appointment
Call us for a free estimate.
Back to Top