Al's Butcher Shop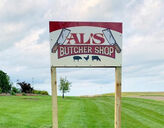 Contact: Alan Loch
Phone: 320-444-2985
24471 383rd Avenue
Belgrade, MN 56312 United States
http://www.facebook.com/alsbutchershopbelgrademn
Hours of operation: Open by appointment - give us a call!
E-mail:
loch3648@hotmail.com
Al's Butcher Shop of rural Belgrade is now a custom exempt butcher shop! Custom exempt basically means our facility is inspected by the state of Minnesota. We can slaughter your hogs, chickens and process venison. We have a local hook up for you to purchase a live hog and have us process it. With each order for the next month we will be including a gallon of homemade apple cider. Call 320-444-2985 or shoot us a message!
Now offering in September 2019:
Back to Top