Belgrade Meat Center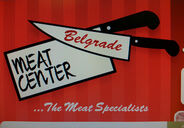 Phone: 320-254-8287
408 Washburn Avenue
P.O. Box 387
Belgrade, MN 56312 United States
http://belgrademeatcenter.com
Hours of operation: Monday through Friday 8 a.m. to 5:30 p.m.; closed Saturday and Sunday
E-mail:
info@belgrademeatcenter.com
Belgrade Meat Center: "Where it's all about customer service!"
At Belgrade Meat Center we provide all the meat processing and friendly retail services you've come to expect from a local, professional locker. Offering exceptional processing and meat products since 1925 - when our establishment operated as Gordhammer Meats - we know a thing or two about cutting meat. While our name change took effect in the early 1990s, we continue to offer the sought-after services and products we were originally founded on.
From succulent steaks and thick-cut chops to area recognized sausages, at Belgrade Meat Center we truly deliver when it comes to custom processing. Since our beginnings we have been known as Central Minnesota's Sausage Specialists - a reputation we work to maintain on a daily basis. Throughout the years we've added products and introduced new recipes into our day-to-day operations; however, we still rely on those original recipes that brought about our 'quality first' reputation.
*Belgrade Meat Center meets the HACCP alliance guidelines and is State Inspected. We are an "Equal To" processing plant, meaning we are equal to that of a Federally Inspected Plant and meet and maintain all Federal meat guidelines and requirements.
Belgrade Meat Center proudly serves businesses, residents, and organizations throughout Central Minnesota, including: Albany, Alexandria, Avon, Brooten, Belgrade, Cold Spring, Elrosa, Farming, Freeport, Glenwood, Greenwald, Meire Grove, Melrose, New Munich, Paynesville, Richmond, Sauk Centre, St. Martin, etc.
Back to Top